Forlorn Inspirations
---
A Website where you can submit your own poetry, stories, dreams, nightmares, and more...
---
---
We've recently added a section to the Forlorn Inspirations website. There were several requests for more religious content to our site. So we've now added the religious opinion section. There is a new topic every month. You get to submit your opinions on our topic. Also I would be glad to take requests for next month's topic as well. Just e-mail them to me. To view our new addition just CLICK HERE
I am currently looking for two more people to add daily diary entries to my website. If you are interested than please - Join Our Diary.
---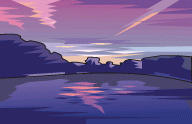 ---